Back to all posts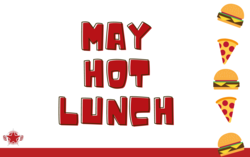 You know the drill! 
May Hot lunch are available to order!
We are offering two hot lunches in May:
May 12/13  Subway 
May 26/27  A-1 Pizza
The options are:
Subway: pizza, ham or a cold cut sub served with a cookie and a juice box.

A-1 Pizza: hawaiian, pepperoni or cheese pizza slice served with a bag of chips and a juice box.
All lunch options are $6.00 per lunch. 
The May hot lunch form needs to be in by Thursday May 6. No late orders for any lunch will be accepted.
The forms are available as a printable form on the RES website under Quick Links. Payment via cash, debit and etransfer are accepted. If paying by etransfer and the order is included in the message box a physical form is NOT required. Please send etransfers to resfees@westwind.ab.ca