One School One Book
ONE SCHOOL ONE BOOK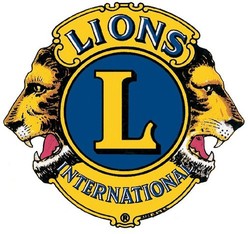 One School, One Book is a program designed to create a shared reading experience within a single elementary school community. A chapter book is chosen, every family in the elementary school receives a copy, and every family reads that book at home over the course of a single month. Activities at school coordinate, promote and enrich the shared reading experience.
Proudly Sponsored by the Raymond Lions Club
ESCAPE FROM MR. LEMONCELLO'S LIBRARY
A MESSAGE FROM THE AUTHOR!  MR. CHRIS GRABENSTEIN
FUNDRAISING:
FUNDRAISING:
Part of the "One School, One Book" philosophy is to give back to our community. Raymond Elementary School is raising funds through our cupcake sales to have the Raymond High School Shop Classes build "Little Free Libraries" which will be placed through out our community.  These "Little Free Libraries" are a catalyst for improving reading motivation and deepening community connectedness. 
Four Benefits of a Little Free Library Book-Sharing Program
1. Supporting Literacy: Little Free Library book-sharing boxes improve book access and thus help tackle low literacy rates. By providing books all year 'round, they can mitigate the "summer slide" where kids' reading skills slip. And 24-hour availability makes it possible for kids and working parents to share books at times that are convenient.
2. Demonstrating a Reading Lifestyle: A book-sharing box populated with books for all ages on a variety of subjects will attract patrons from different parts of the community. Participation by such a range of users, from little kids to seniors, shows budding readers the value our culture places on books and encourages good reading habits.
3. Forging Partnerships with Parents: When schools, libraries and parents work together, the outcomes can be powerful. Parents can be important advocates, and they can play a critical role in the funding, implementation, and maintenance of a Little Free Library book-sharing network, whether it be for a school, a library or an entire system.
4. Establishing New Avenues of Community Service: Libraries and schools have established Little Free Library book-sharing boxes beyond their properties as a way to engage with their communities. Volunteers, service groups, and students can assemble kits and maintain book supplies for locations where books are few. A Little Free Library program can attract new partnerships with community groups and demonstrate a heightened commitment to the neighborhoods served.
Please help us support "Little Free Libraries" by purchasing cupcakes or by donating. 
If you're unable to make a donation at this time, please consider helping RES reach our goal by sharing this page by email or on social media.
etransfer to resfees@westwind.ab.ca and make sure to mark as "DONATION TO 1S1B"
READING SCHEDULE:
The One School, One Book Project will provide you with a scheduled expectation to read aloud as a family.  We ask that you follow the provided schedule and read aloud together each week when possible as we have weekly trivia questions and school activities based on the week's readings.  Please use the weekends if needed to make the schedule work for your family.  
We a have also provided audio recordings of each chapter.  Click on the Chapter to listen!
March 4-10  
March 11-17
March 18-24
March 25-31
April 1-4
Chapter 45
Chapter 46
Chapter 47
Chapter 48
Chapter 49
Chapter 50
Chapter 51
Chapter 52
Chapter 53
Chapter 54
Chapter 55
Chapter 56
CALENDAR OF EVENTS: